Here we are at the beginning of a new year. So much of 2020 was strange & unsettling, but life went on, as it does, and I felt extra grateful to be on the mountain.
This year Yves brought an oven up (not an easy task) and we started baking all of our own sourdough bread, which has been a tasty & economical endeavor that I've throughly enjoyed. There's something meditative about the ritual of baking bread from scratch and the end result is delicious.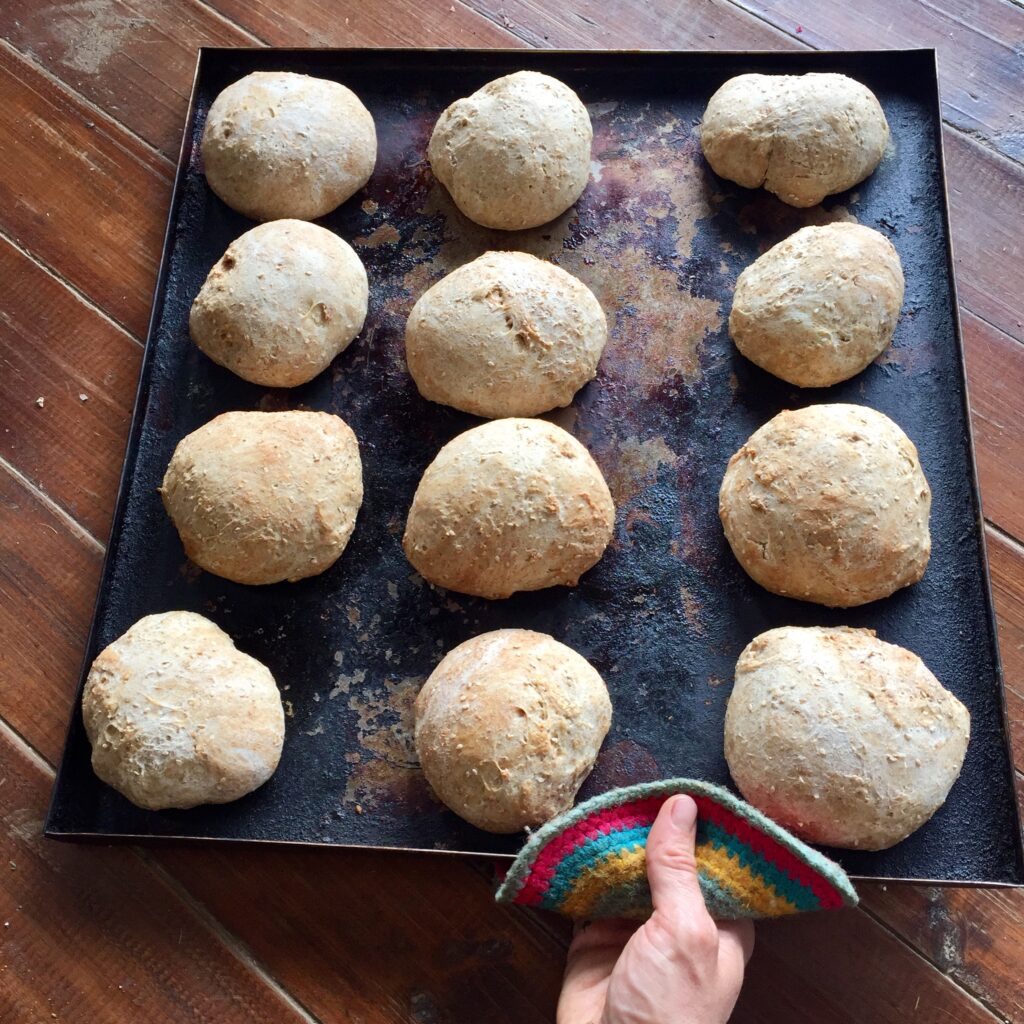 The gardens, though neglected to a greater degree than I had hoped, thrived despite the lack of constant love. We enjoyed perpetual pink rose blooms in the bramble near the duck pond. We harvested luffas, amaranth, lamb's quarters, a several kinds of kale, coffee, yacón, berries, ají peppers, a variety of medicinal + edible herbs, white carrot, tomatoes, and our first peach from a tree Yves planted years ago. The peach was the most delicious I've tried since arriving in Ecuador, reminiscent of summers in the Midwestern USA.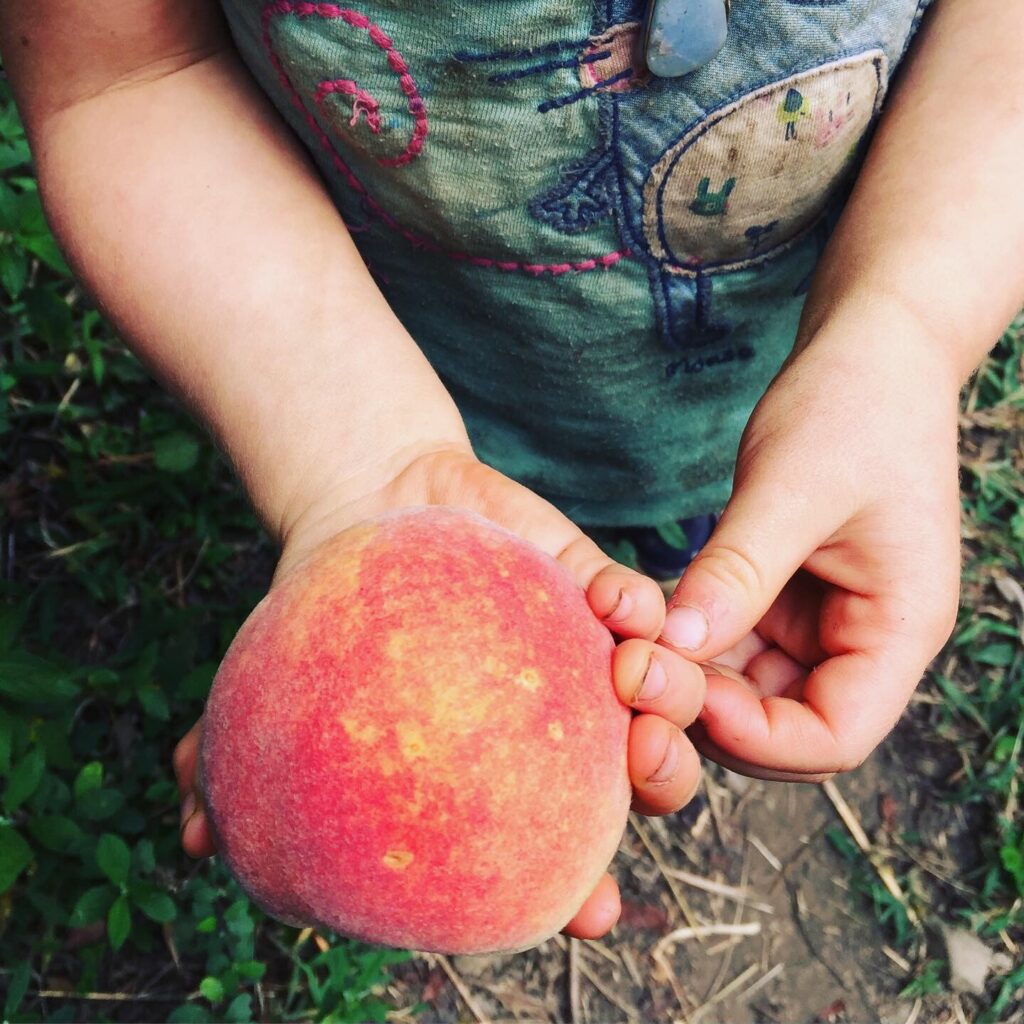 Our toddler blossomed into a little farm girl this year. She started riding the horse and became more independent and helpful in various other ways — like lending a hand with animal chores, baking, and laundry.
Our biggest project of 2020 was a second floor addition/roof remodel, which Yves took on nearly entirely by himself. He had a few days' help from a few volunteers staying at the Refugio to assemble the roof and a couple of days with a skilled chainsaw guy who helped fell pines & then cut them into boards.
Many days were spent cutting and preparing the wood, then more weeks were spent bringing it all down from the pine forest at the top of the property with the help of our horses. And then more days to put it all together. The roof was finally up just in time for the rains to really start (of course, there were a few storms that soaked the house before that).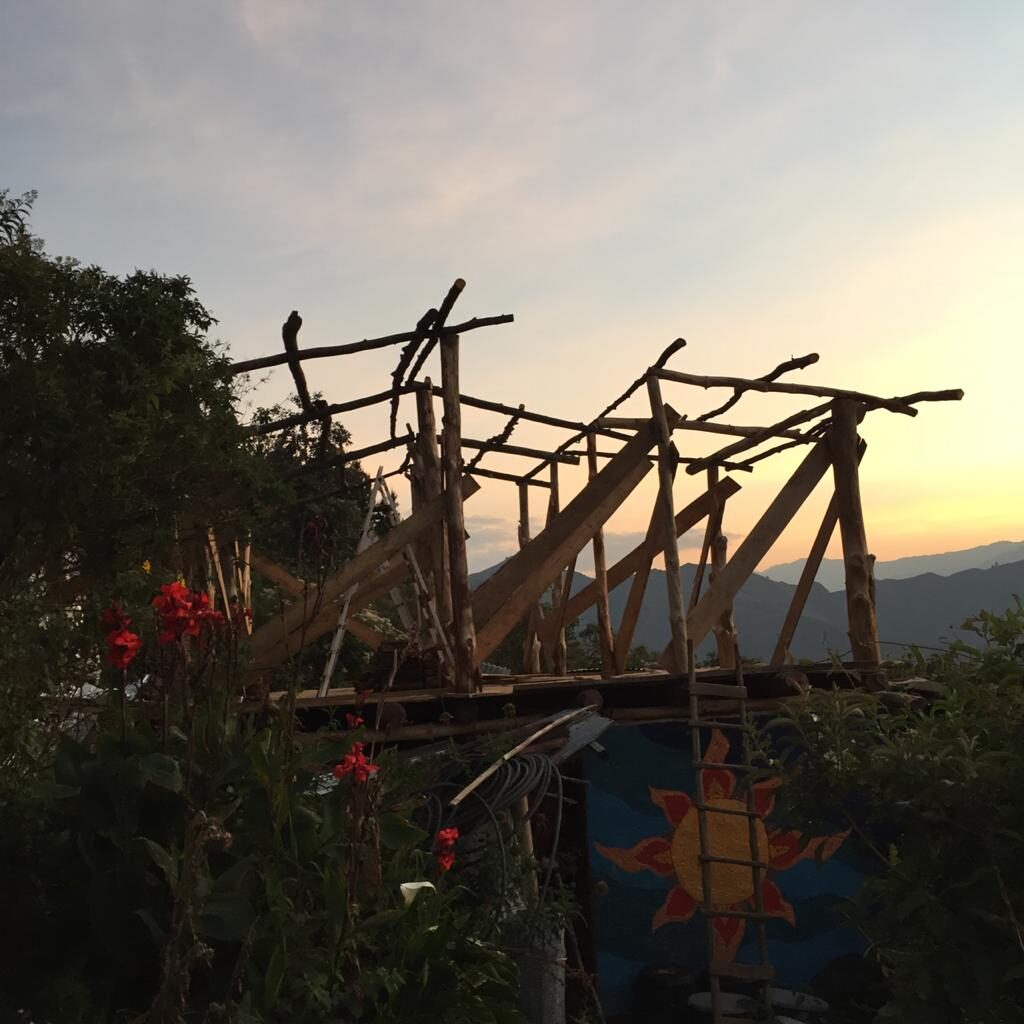 Our business went through some big changes this year too. When we first started selling our handcrafted herbal products in 2017, we called ourselves Wild Blossoms Farm, expanding on the name of my herbal products line I'd started several years earlier. We'd been feeling for some time that this brand no longer resonated with our project here. And so we changed the name of our little farm to Sierra y Cielo. We also created an online shop where folks can buy our products. Unfortunately, we aren't able to sell internationally, at this point, as there aren't options for shipping, but our site does allow folks within Ecuador to view our many various products and order online.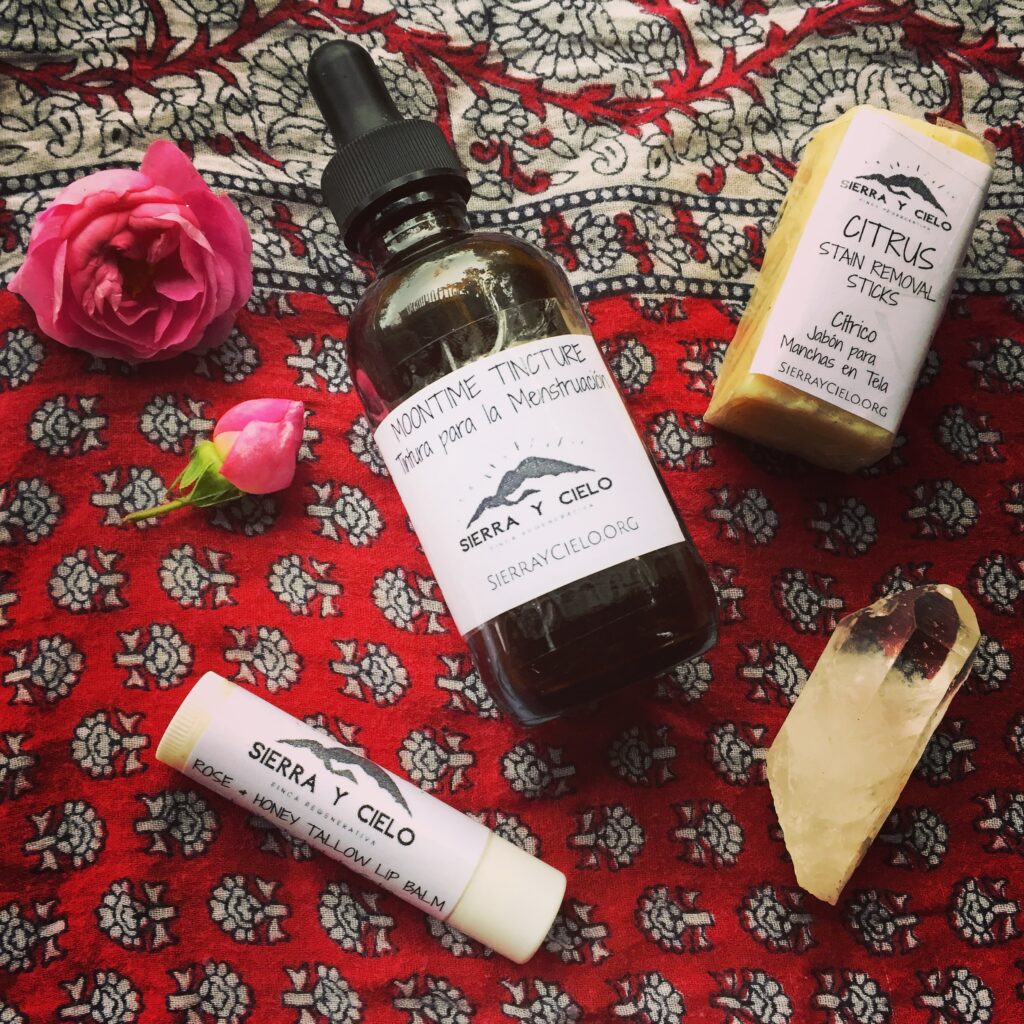 A side project we were passionate about this year was photographing & identifying the plethora of unique wild plants that grow here. Many are endemic to Ecuador, or at least to this region in South America, and several are critically endangered due to habitat loss. Getting to know the plants that thrive here has felt incredibly grounding in a time where so much about the world seems uncertain. We'll definitely be continuing with this project in the coming year. Stay tuned for our field guide of the wild plants of the Sacred Sueños Eco-Sanctuary, which we will be releasing soon.
Though 2020 was a strange year for pretty much everyone, to be honest, our day to day lives didn't change all that much — even in spite of a country-wide lockdown that included curfews + driving restrictions and lasted several months. Life on the farm is isolated, by nature, and tending to our many animals kept us busy, as usual.
In February, our goat, Maple, gave birth to FOUR healthy babies (her second birthing). We kept two of her daughters, Ophelia & Opal, for some months before they went to live on our friends' farm.
We also got our first pig this year. After chasing our neighbors' escaped pigs off our property several times earlier in the year, I was a bit skeptical about how it would go, but Fern has actually been pretty darn cool. She was born at our friends' farm & has been well socialized since birth so she's very friendly and even comes when she's called!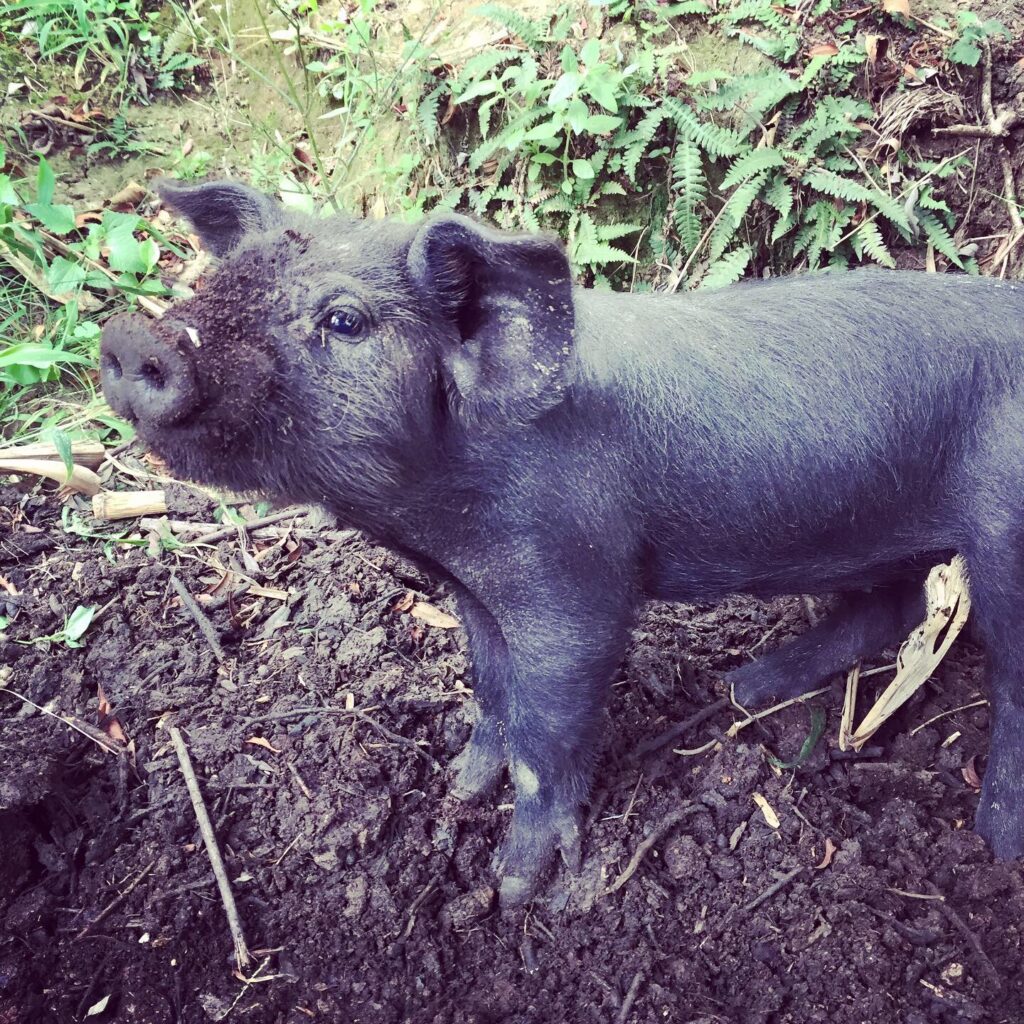 Something we need to work on in the coming year is improving our pastures for the goats & horses. There are large sections of the land devoted to pastures that aren't actually growing things that any of our animals will eat. And that's where Fern comes in. Yves made her a sturdy harness and we tie her out in areas that we plan to transition to edible plants and she does her piggy thing digging everything up. After she's plowed the area, we move her to the next spot and plant wild plants our goats & horses love to eat there. So far, this system is working well. At only a few months old, Fern is already an effective plow, and will be able to turn over areas quicker as she grows.
We got more ducks this year, after a small break without them. We'd always had Pekings, but this time around got a batch of baby Mulards (a Peking-Muscovy hybrid). They are a great deal quieter than the pure Pekings, which makes them much more tolerable for Yves, who was kept awake many a night by the ducks chatting away as they played in the pond.
Our rabbit, Clover, had her 2nd litter (her first litter with our new male Theo, who joined us on the farm this year) — 5 babies born on the Full Moon in Aries. We kept two of the babies, one male who we'll raise for meat, and a female, Moona, who Ayla named & has claimed as "her" rabbit. The 3 others were sold to friends as pets and to start their own rabbit ventures.
We lost two dogs this year, Oso & Achira, which was incredibly sad. Achira disappeared one day, while out with Yves helping to chase the neighbor's pigs off our property. I searched for her many times, but never found any sign of her. I suspect she was poisoned, as that is the fate of many a dog here. And some months later, sweet old Oso died after a long, gradual decline. He grew sicker and thinner over the span of months, despite our efforts to bring him back to health, and eventually passed away.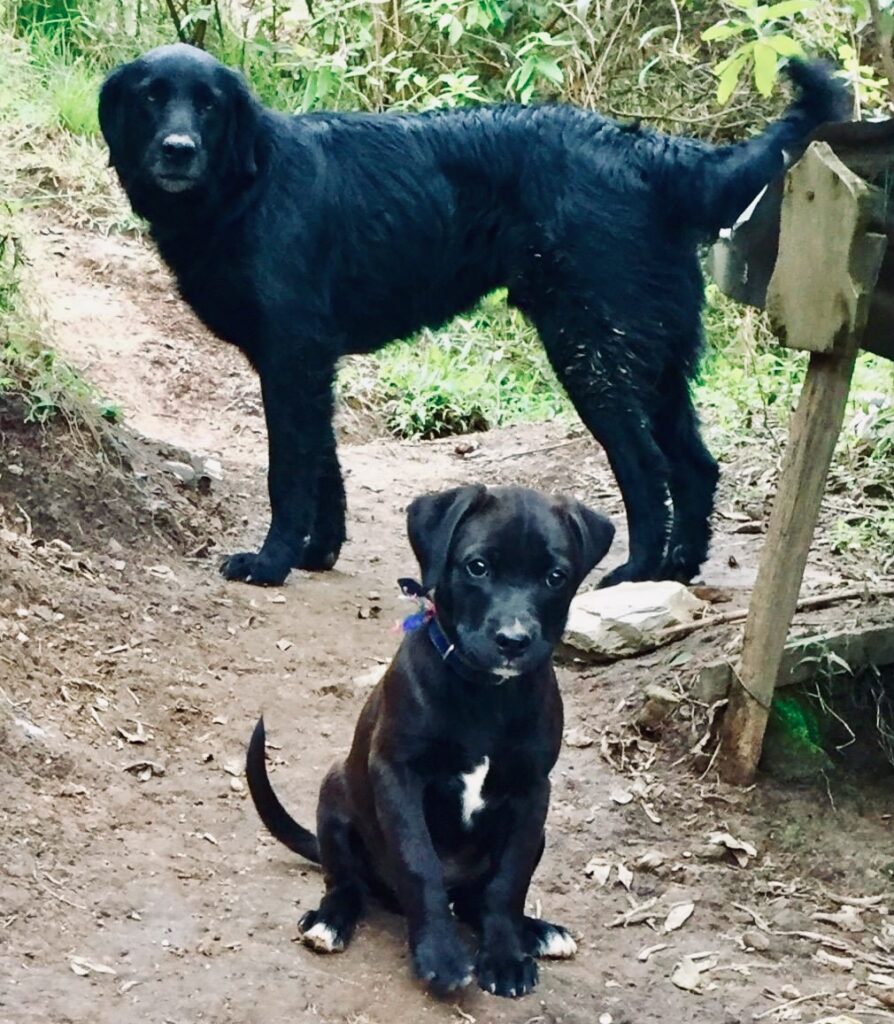 After losing Oso & Achira, we adopted our dog, Chloe. Which led to me getting involved with local animal rescue organization, Amigos de Animales Vilcabamba. Chloe had been taken out of a very dire situation with her mom and siblings when she was still very young by the folks who run Amigos de Animales.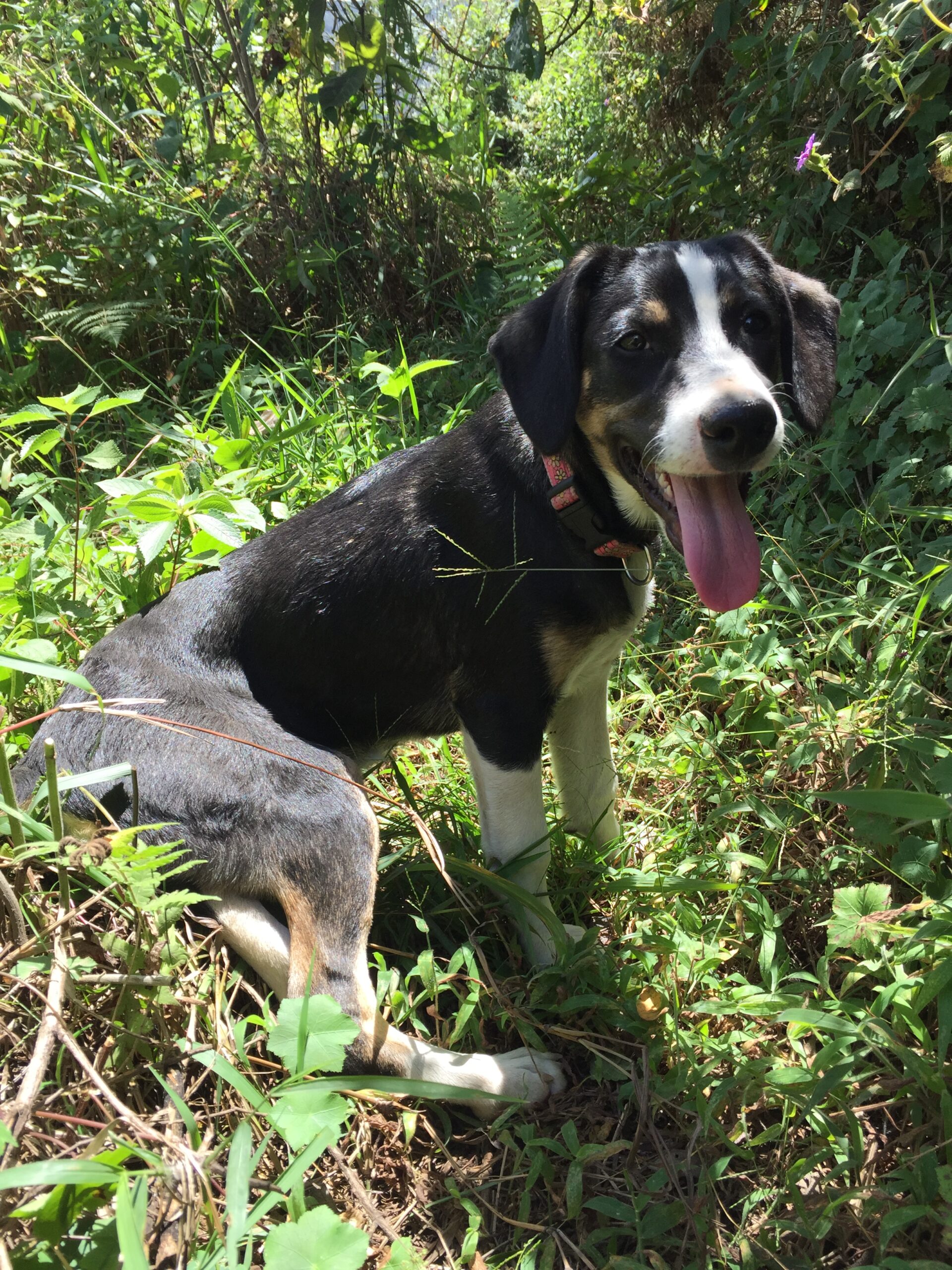 Luann then nursed her back to health and some months later she came to live on the mountain with us. I was impressed by the folks running this small organization and how much they was doing to help abandoned and homeless animals in our community with their own limited funds and in their own homes, as there is no animal shelter here.
I wanted to do more to help so we hosted two sweet foster dogs, Bella & Baxter, who both found loving forever homes this year. We'll be fostering more dogs in the future. You can read more about our animal rescue efforts here.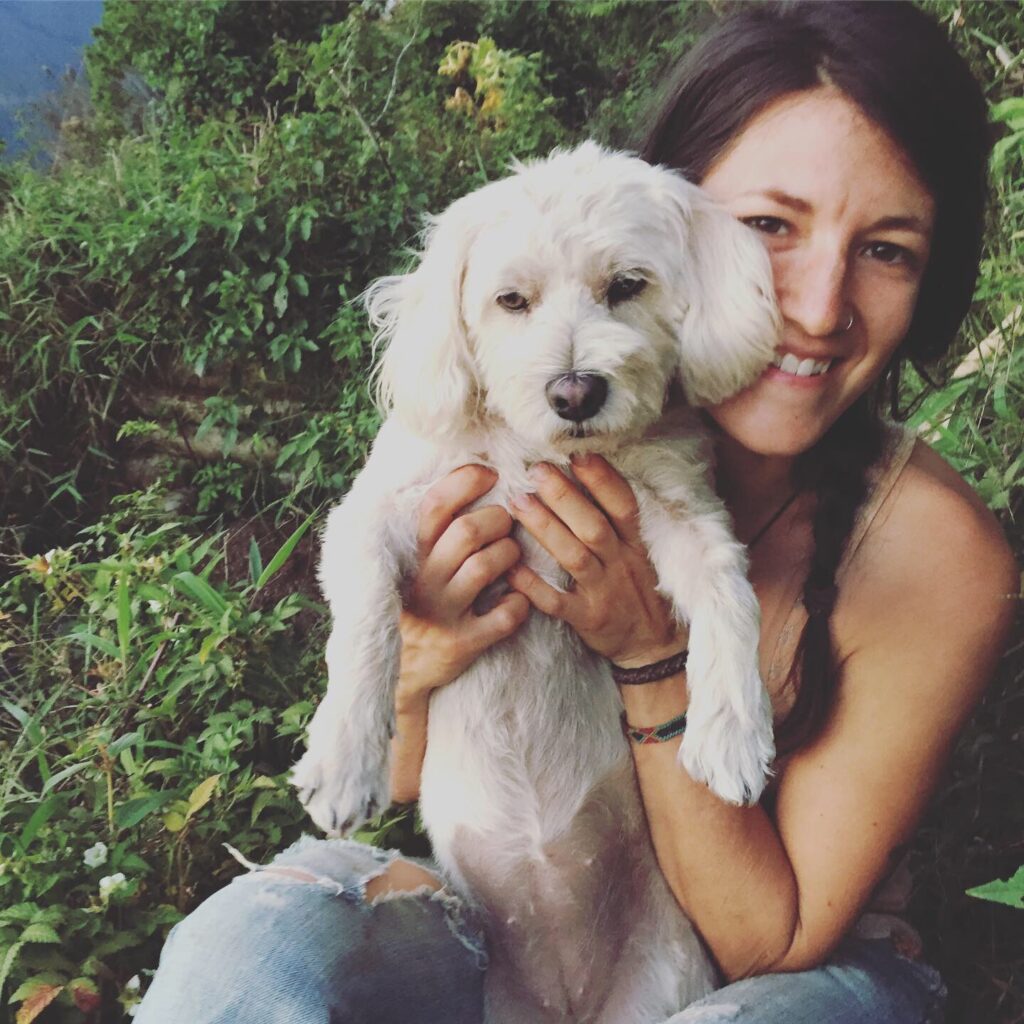 Due to lockdowns and travel restrictions, we saw very little of our families & friends who live abroad this year. I am so thankful we had the chance to see my parents in early February before the pandemic hit. This time their visit coincided with Maple's birthing. They had never been at a goat birth before, but joined right in helping to bottle feed the babies and keep an eye on Maple post-partum. Such a fun visit!
In a time where international travel became complicated, we were especially grateful for the relationships we have with the folks in our community here in Vilcabamba. We even enjoyed a couple of visits from friends on the mountain, and were incredibly blessed by a blossoming friendship with Marcine & George.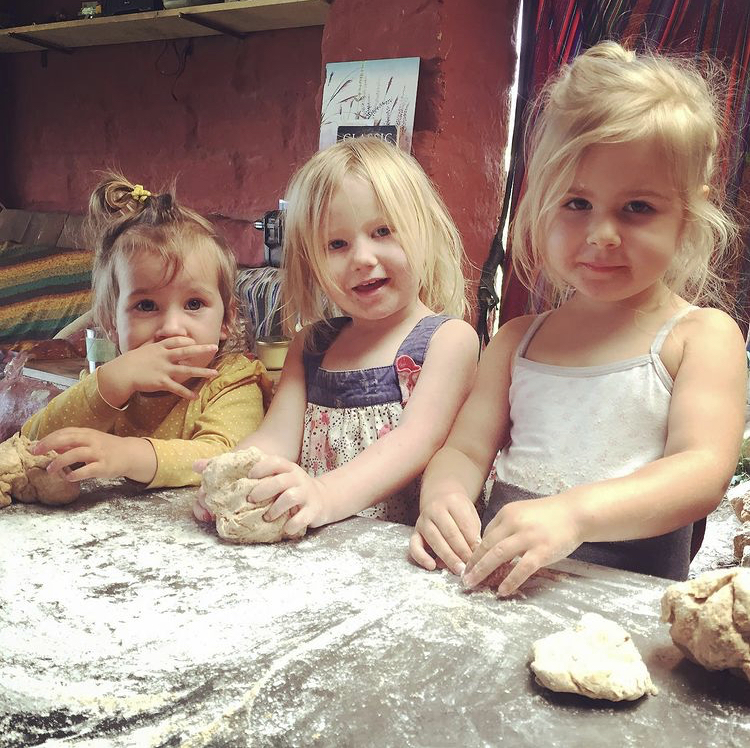 Despite its normalcy in many ways, 2020 also certainly had its challenges. Two folks who had been long-time supporters & friends of Sacred Sueños — Mike & Jack — died unexpectedly (non-Covid related). Both men were well loved by those who knew them and the ripples of their passing were wide.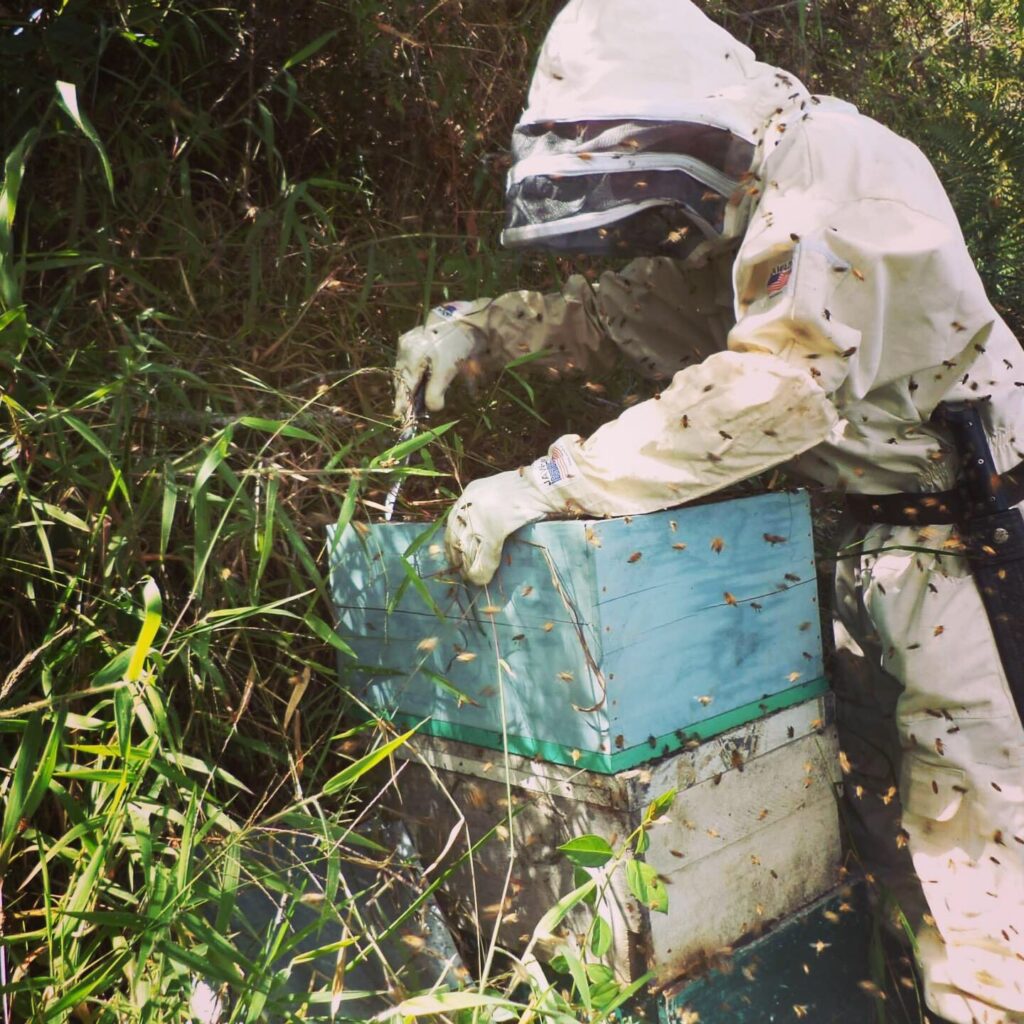 Like many people all over the world, it was an incredibly difficult year for us financially. While the pandemic certainly exacerbated things, it all began at the beginning of the year, when folks from the Municipio started their efforts to shut down the organic market.
Around that time, we made the decision to stop renting the sweet little apartment we had in town and to consolidate things on the mountain. We weren't sure what the future held for the market and were no longer making enough money in sales to justify renting the space.
This was a tough choice for us, as the extra nights in town were essential to us being able to make it to the market first thing and gave us more time to arrange play dates for Ayla. But, in truth letting go of the apartment also simplified our lives by having less commitments in town, and I was thankful for that.
In the end, the timing of the whole fiasco was a blessing in disguise. The month after we moved out of the apartment, the entire country was locked down due to the pandemic and we wouldn't have been able to utilize the apartment at all. We were incredibly grateful to not have to worry about paying rent, or checking in on the apartment, so we could stay up in then mountain to ride out the state of emergency (except for supply runs — which Yves so graciously handled).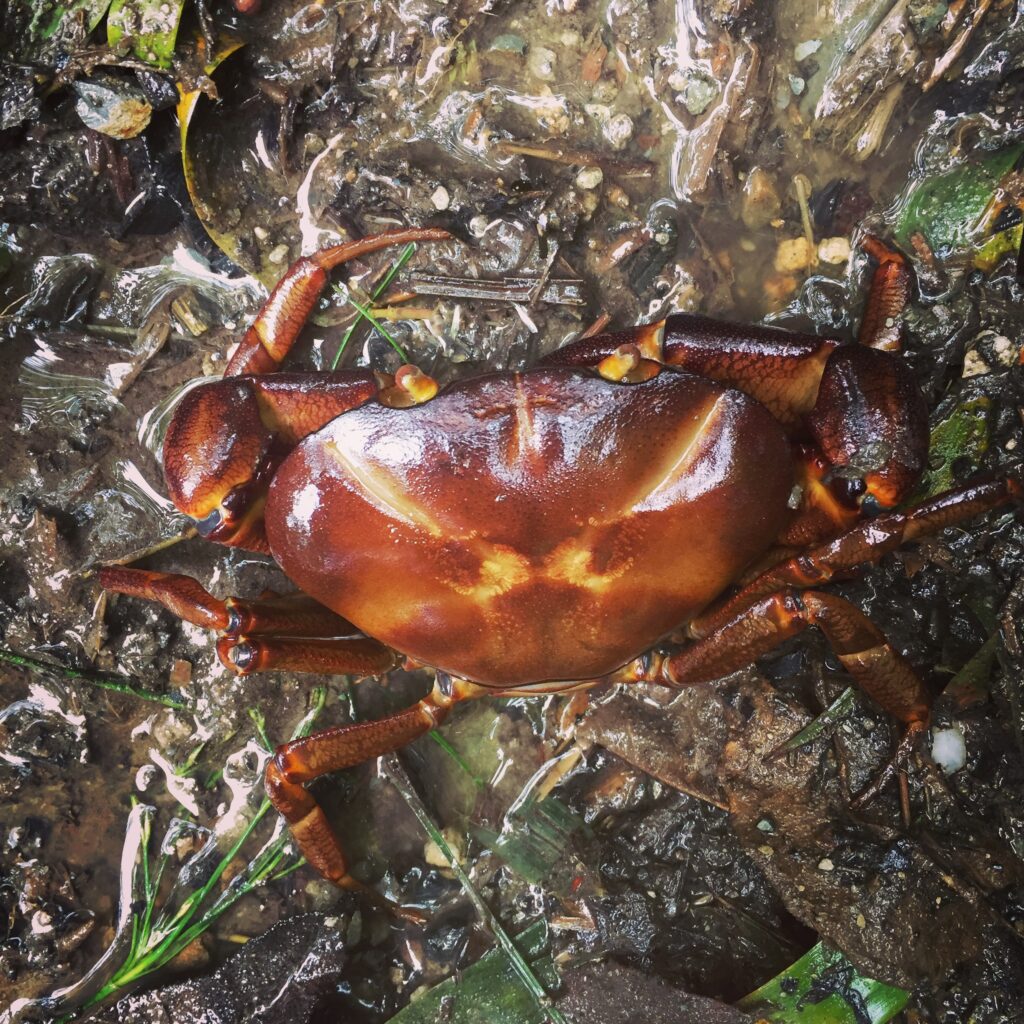 This past year we also made the difficult decision to transition Sacred Sueños —Yves' original project on this mountainside — to an eco-sanctuary and refugio. For more than 15 years, Seed Camp (the original site), was where members and volunteers lived in an intentional community. But, after a few key members left some years ago, things have been slowly falling apart.
In the end, the final decision was spurred on by a toxic & entitled individual who lived at Seed Camp for about a year — doing damage to the infrastructure there, losing, stealing, + breaking tools & community items, clear cutting the cloud forest, stealing from friends who had things stored at Seed Camp, and more often than not, refusing to contribute if it didn't directly benefit him. When we finally asked him to make a monthly rent payment (he'd been staying & using our horses for free as a "community member" up til then) he promptly left (that was easy!) and we began to come to terms with the amount of work and funds that it was going to take to repair/replace everything he had ruined.
There's still plenty of messes to clean up and things to repair from his stay with us, and though it's been easy to feel a bit bitter about the lost time & money as we get things back in order, in the end, we are grateful for the experience as it brought more clarity to our vision for the Refugio and helped us to start looking at where we need to grow. Neither Yves nor I like to micro-manage or boss people around, and both of us have a great deal of respect for other people & their belongings, so we simply expect others to behave with integrity, as well. Unfortunately, dealing with this individual was a rude wake up call that not all folks will hold themselves to the same standards, and we need to get a bit better at keeping tabs on guests to ensure things stay in good order at the Refugio. As with all things, finding a healthy balance is always a bit of a process.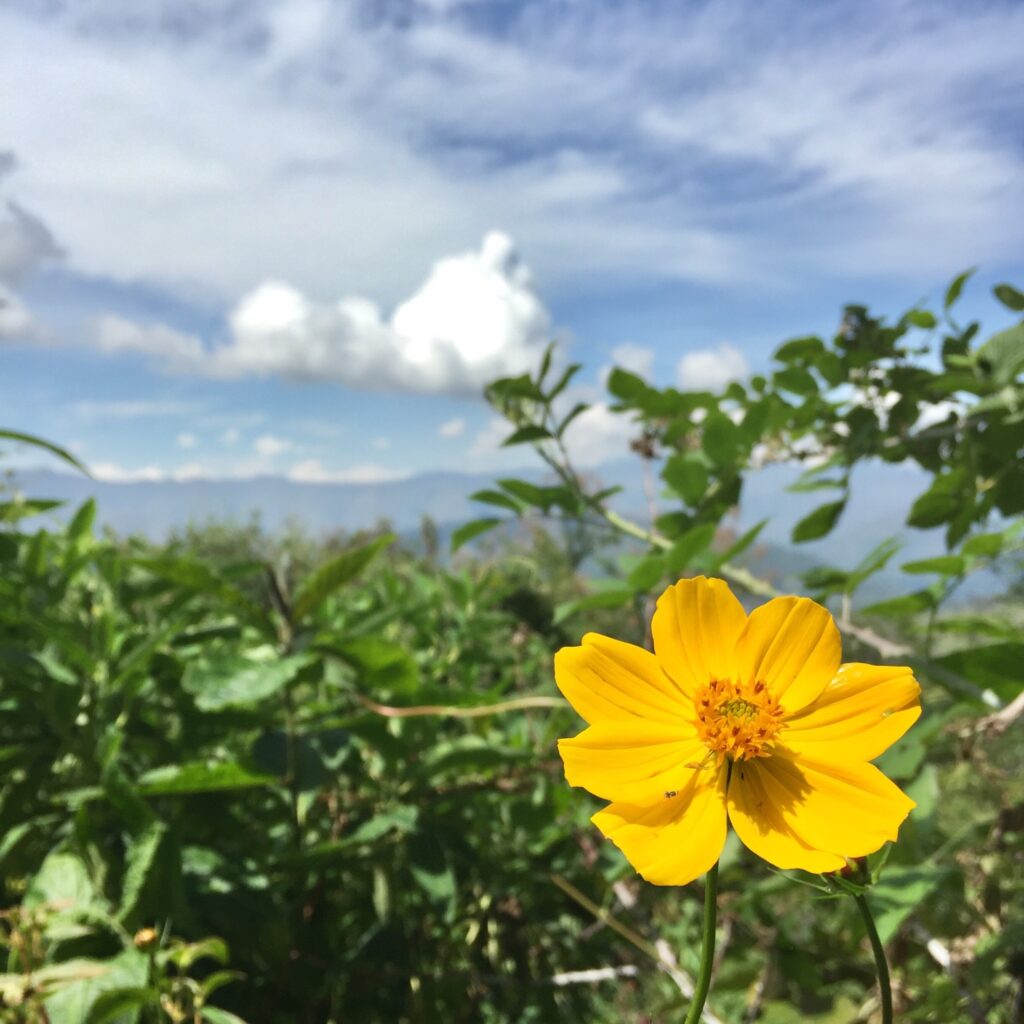 Ultimately the experience is helping to facilitate a necessary change. Instead of clinging to the hopes that a community will form again, we are letting go of that model and instead focusing our energy on turning the Seed Camp into a getaway for folks who want to escape the modern world for awhile.
We're also finally admitting that fully keeping up with the place isn't possible or necessary. Over the years many little cabins were built by folks that called the place home, for a time. But, now the cost & time to maintain all the cabins is more than the 2 of us are able to manage with our own home & little farm to tend to. So, we will start to dismantle most of them and use the materials to keep up the kitchen and a few of the closest cabins, as needed. This relieves the stress of having to keep putting money into the place to maintain it & do repairs, but still allows us to utilize the centralized infrastructure as a rustic, yet cozy Refugio with an amazing view, fresh air, mountain spring water, and lots of unique bird songs — the perfect retreat space for artists, couples, or those burned out on the modern world. And we're still offering a the option to volunteer, for those who want a more educational & economical stay at the Refugio.
As we look forward to 2021, there are many different projects we hope to work on, but some of the things high on the priority list are:
Improving our goat & horse pastures (as described above)
Continuing to work the gardens — caring for the existing plants & adding new edibles + medicinals
Finishing the construction on the house
Working to identify more of the beautiful wild plants that grow in the Sacred Sueños eco-sanctuary
As always, our efforts have the regeneration of this land we steward as an underlying goal. Our aim is always to improve biodiversity and to live a lifestyle that benefits the earth, instead of harming it. There is always more that can be done to decrease how we negatively impact the health of the planet, as so many of the systems in place in our modern world fail to consider detrimental environmental impacts for the sake of making things "easy." We're by no means perfect, but we're always striving to do better in this regard.
If you'd like to support us in our efforts, you can do so here. If you'd like to join us for a stay at the Refugio, you can find more information here.
Wishing you all a happy, healthy 2021!