Achiote, also commonly known as annatto, bija, or urucum, is a lovely evergreen shrub in the Bixaceae family that is native to parts of South and Central America. Today, it is grown in most tropical countries. About 60% of annatto seed is produced in Latin America. Peru is the largest producer and exports the seeds worldwide.
These brightly colored seeds are often utilized as a culinary spice and food colorant. Achiote infused oils are commonly used in various Latin American, Mexican, Indian and Caribbean dishes to improve color and flavor. Another popular preparation is achiote paste, which is made from ground achiote seeds, water or vinegar, and a mix of other herbs and spices, such as cinnamon, bay leaf, coriander, garlic, salt, cloves, & oregano (Ravindran, P.N., et al.).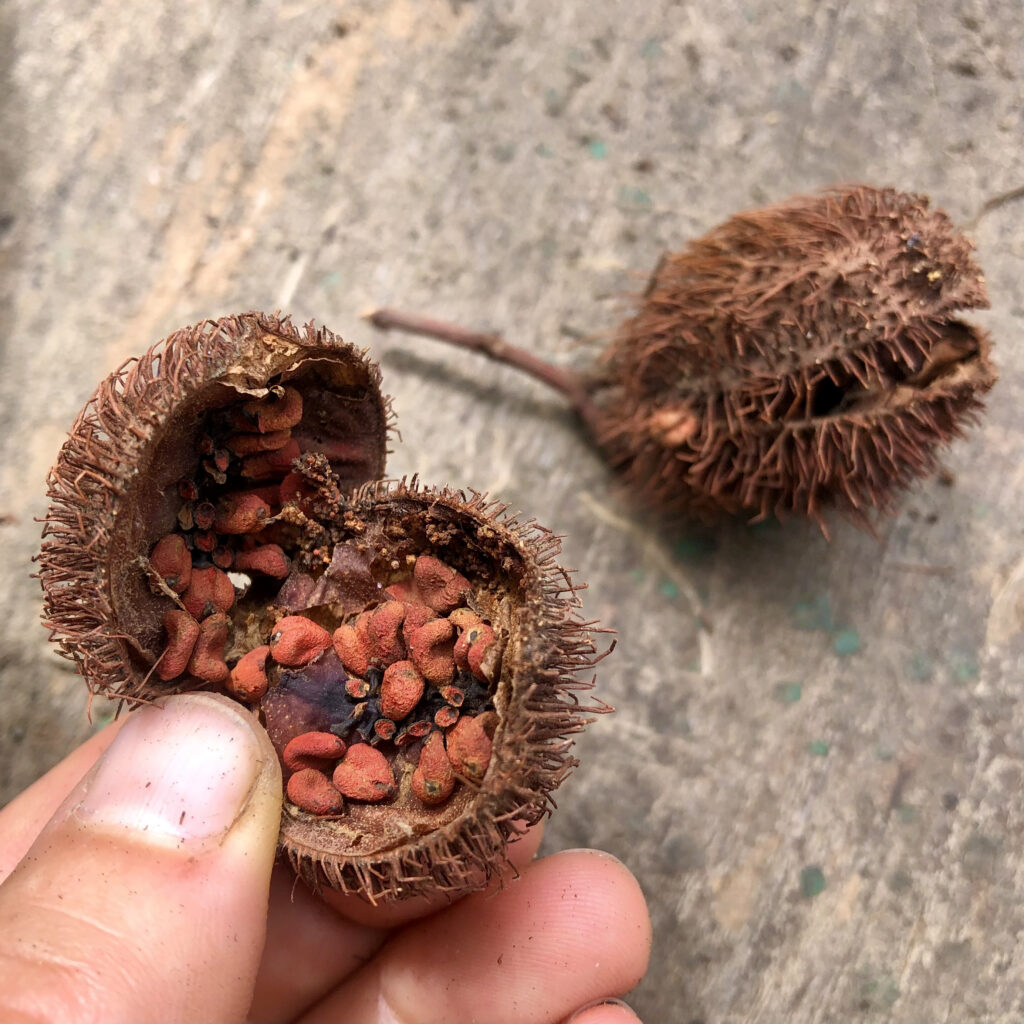 Here in Ecuador, achiote is used in various dishes, including my favorite — Locro de Papa, a potato soup topped with cheese & avocado. It is also featured in many other dishes, such as Carne colorada.
Those who live in South and Central America can probably find achiote oil at the store, but it's also quite easy to make your own.
To make achiote oil:
Mix 1 part achiote seeds with 2 parts oil in a small pan. Strongly flavored oils, like olive oil, will overpower the subtle flavor of the achiote, so use a mild tasting oil for best results. Heat gently, stirring occasionally, until the oil turns a reddish-orange (about 10-15 minutes). Remove from heat and let cool. Then strain out the seeds and store in a glass jar. Store in a cool dark place, for best shelf life. Add to meals for mild flavor and a boost of color.
In addition to being a popular culinary addition, annatto has been widely used as a colorant by the food industry, particularly in cheese, butter margarine, oils, candy, ice cream, sausages, and beverages (Stringheta, Paulo, et al.).
Achiote also has many non-food applications. Indigenous cultures have long used the pulp combined with oil for cosmetics, like hair dye & lipstick, and as a body paint, which helps to repel insects and protects the skin from sun damage (due to bixin, a carotenoid pigment that filters UV).
Western cultures also appreciate achiote for its cosmetic applications due to its antioxidant & emollient properties and the rich, cheery color it imparts on lotions, soaps, and shampoos.
Achiote seeds are used as fabric & wood dyes and in products like floor wax, furniture polish and shoe polish (Ravindran, P.N., et al.).
I recently tried dying wool yarn with achiote seeds. I will have to experiment more with mordants (fixatives), as the iron mordant I used dulled the lovely vibrant color of the achiote dye bath (pictured below) and I was not entirely happy with the end result — a sort of yellowish brown color. I enjoy experimenting with natural dyes from time to time and look forward to working more with achiote in the future.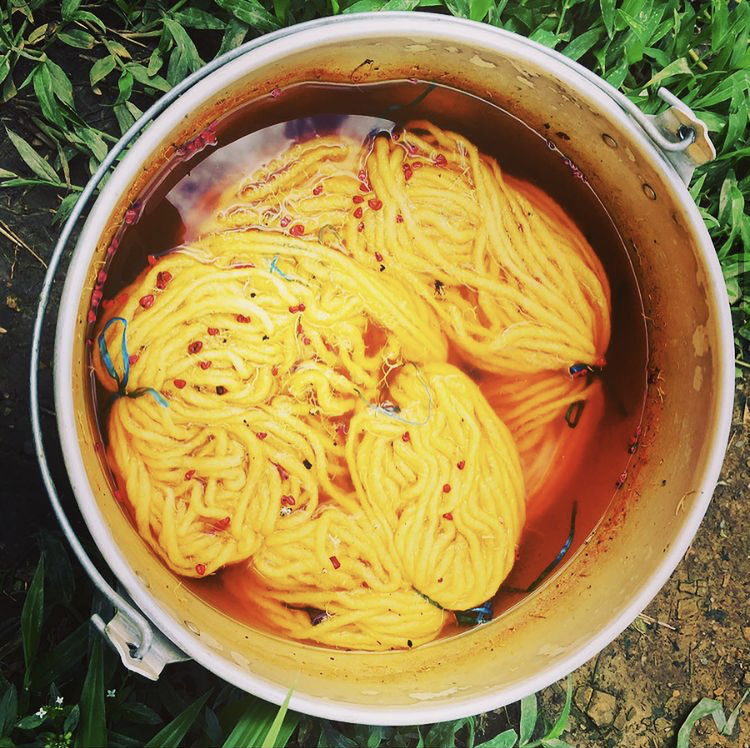 Achiote has also been utilized by the poultry industry as an ingredient in chicken feed to improve the appearance of the egg by darkening the yolk color. Feeding hens achiote seed may also help with overall egg production. One study conducted by the University of Puerto Rico found "the addition of whole achiote seed to the feed given to laying hens not only colored the egg yolks, but also increased egg production tremendously. Egg production was increased 20 to 26 percent in favor of the achiote-fed hens over the control group. The achiote-fed birds were also more consistant in laying eggs" (Landagora, F. T.).
While achiote seed has become popular for its use in food, cosmetics, and other products, traditional cultures have long utilized the whole plant for various medicinal applications. Handbook of Herbs and Spices states that "the young shoots are used as a tea-like drink which is drunk as an aphrodisiac and astringent, and also in cases of fever, dysentery and hepatitis" (2012).
In Guatemala the leaves have been utilized in treating gonorrhea, hepatitis, and dysentery (de Araújo Vilar, et al.). A decoction of leaves has been used to stop vomiting. Peruvian herbal medicine utilizes the leaves in a decoction that is drunk to treat various issues, including prostate problems, hypertension, & obesity and is used externally as an antiseptic and to heal wounds. The leaves have also been used for other skin issues and to prevent scars. In Ethiopia, they are used to dress wounds (Ravindran, P.N., et al.).
Modern research has shown that many of these traditional uses are backed by science. Studies have confirmed the hypotensive effect of a water extract of achiote root (that has long been recognized by Peruvian herbalists), as well as muscle relaxing effects and a reduction of gastric secretions.
One study showed that annatto seed extract lowered blood glucose levels in diabetic dogs.
A 2000 study conducted on mice, confirmed the effectiveness of a leaf/bark preparation used in Columbia to treat snake bites.
Studies have shown that several strains of bacteria, including E. coli and staph, were negatively affected by achiote flower and leaf extract. Maslinic acid, an antibacterial compound, has been isolated from the leaves, explaining this antibacterial effect (Ravindran, P.N., et al.).
In addition to being incredibly versatile and useful, achiote is also quite ornamental. While we don't have this pretty shrub growing in our gardens, we are fortunate to have a friend with a well-established achiote who is kind enough to let us come harvest.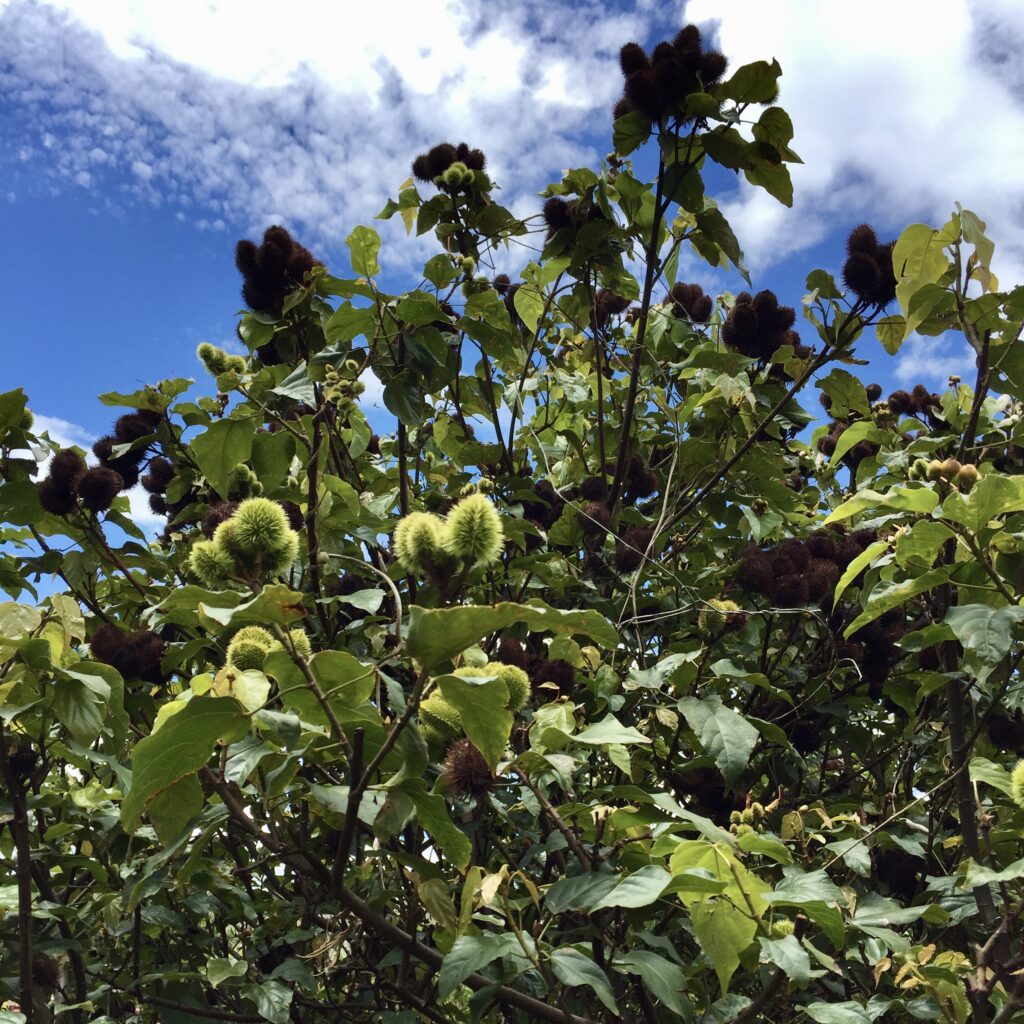 ---
References
de Araújo Vilar, Daniela, et al. 2014. "Traditional Uses, Chemical Constituents, and Biological Activities of Bixa orellana L.: A Review." Scientific World Journal. 2014.
Landagora, F. T. 1962. "Effect of Feeding Achiote Seed on Egg-Yolk Pigmentation". The Journal of Agriculture of the University of Puerto Rico 46 (2):91-96. https://doi.org/10.46429/jaupr.v46i2.12302
Ravindran, P.N., et al. 2012. "Achiote (annatto)."Handbook of Herbs and Spices. A volume in Woodhead Publishing Series in Food Science, Technology and Nutrition. Second Edition, 2012.
Stringheta, Paulo, et al. 2018. "Annatto/Urucum—Bixa orellana." Exotic Fruits Reference Guide. 23-30.