Capsicum pubescens is commonly known as rocoto, tree chile, or ají (a less specific name that is used to refer to many kinds of chili peppers). It is cultivated mainly in the high Andes, but is also grown in some parts of Gutatemala and in Southern Mexico, where it is called manzano.
Rocoto produces beautiful red fruits with pungent spicy flavor. These peppers measure 50,000–250,000 Scoville Heat Units.
Rocoto is a perennial and can grow for 10 years or more. It is more tolerant to colder temperatures than other types of cultivated peppers and generally grows at higher altitudes, usually between 1,500-2,900m (~4,921-9,514ft). It does not tolerate frost or the heat of the low-land tropical zones (Lost Crops of the Incas, 1989).
Ají, and other spicy peppers, like cayenne, are well-known as culinary spices, but also possess potent medicinal properties. They can be utilized for various ailments, as a tonic or first aid herb. Spicy peppers contain a constituent, Capsaicin, that is responsible for their heat, as well as many of their healing benefits.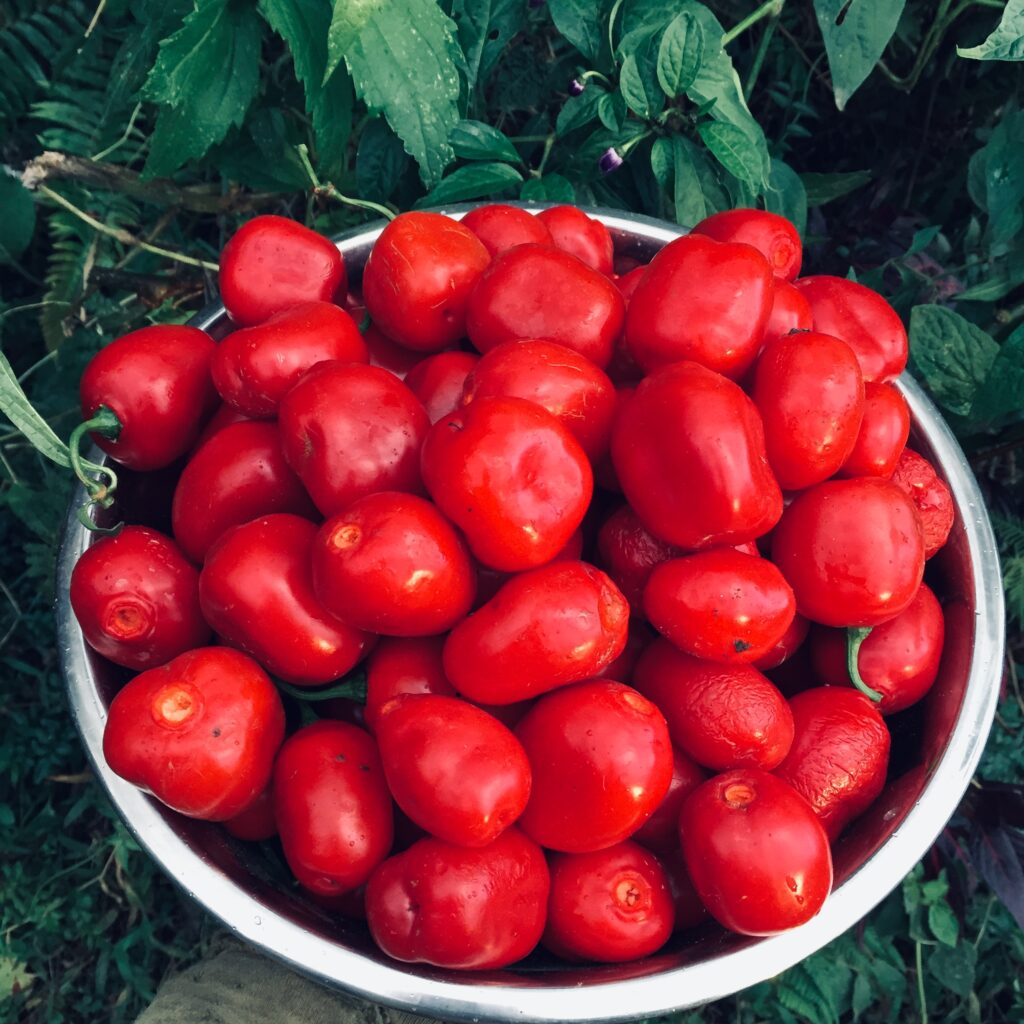 Capsaicin is a vanilloid that is found in the fruits of plants in the Capsicum genus. It is a compound that is in the same family as vanillin — which is extracted from vanilla, eugenol — derived from bay leaf and clove, and zingerone — found in ginger (Ilie et al., 2019).
Studies have found that capsaicin is anti-inflammatory and helps to inhibit the sensation of pain (Ilie et al., 2019). Allopathic medicine utilizes capsaicin topically in the form of a cream, gel, lotion, or skin patch to treat pain disorders, nerve pain, arthritis, cluster headaches, and some skin conditions, like psoriasis (Healthwise, 2020).
Capsaicin is also used as a supplement to promote healthy digestion by improving levels of digestive juices and by killing bacteria from contaminated food that can cause issues like diarrhea (Healthwise, 2020).
Capsaicin is an antioxidant, which has a protective effect on cells in the body and may ultimately help to prevent disease. It also can help to fend off bacterial infections (Healthwise, 2020).
Capsaicin may be helpful for those ill with a cold or flu as it thins mucus and helps to expel it from the lungs. It also helps to strengthen the lungs, and may prevent or treat chronic lung damage, such as emphysema (Healthwise, 2020).
Capsaicin has strong "anti-cancer activity." Studies have shown that capsaicin causes no harm to normal cells, while inducing cell death in multiple types of cancer cell lines (cancer cells that are used to study cancer in a lab setting) including pancreas, colon, prostate, liver, esophagus, bladder, skin, leukemia, lung, and endothelial (the lining of blood and lymph vessels) cells. It also slows or stops cancer cell growth and helps to prevent metastasis, the spread of cancer to different parts of the body (Clark & Lee, 2016).
Furthermore, a 2020 study found that including spicy peppers in the diet can improve overall life expectancy. Bo Xu, MD, lead author of the study and a cardiologist at Cleveland Clinic, said "Subjects who regularly consumed chili pepper, particularly the hot chili pepper, had a lower risk, relative risk, of dying from all causes, as well as dying from heart and vascular-related causes, as well as cancer-related deaths" (Cleveland Clinic, 2020).
The study found that, compared to individuals who rarely or never ate spicy peppers, those who regularly consumed them had a 25% reduction in death from any cause, 26% fewer deaths related to cardiovascular disease, and 23% fewer cancer related deaths (American Heart Association, 2020).
Modern studies now show the varied health benefits of spicy peppers, but chilis have been utilized for thousands of years for food and medicine. Scientists have found Capsicum spp. residue in pottery found in Southern Mexico that is over 2,000 years old (Public Library of Science, 2013).
In the classic herbal Back to Eden, that was originally published in 1939, Jethro Kloss states "red pepper [Capsicum frutescens] is one of the most wonderful herb medicines we have" (2009, p. 106).
Ají is stimulating and boosts overall vitality. It improves heart health and normalizes circulation. It can even out high or low blood pressure. It's hemostatic, astringent effects makes it useful for stopping both internal and external bleeding (Tierra, 1998).
It's helpful for easing muscle spasms, gas, and abdominal cramps. Ají is also said to prevent heart attacks, strokes, cold & flus, headaches, digestive issues, depression, and arthritis (Tierra, 1998).
It can be used topically, in tincture or powdered form, to ease toothaches, swelling, and inflamed arthritic joints. Herbalist, Michael Tierra (1998), states that when combined with plantain (Plantago sp.) and applied as a poultice it can help to remove splinters.
Ecuadorian folk tradition utilizes ají as a cleansing herb for "mal de aire," or bad spirits (Gartelmann & Pérez, 2011).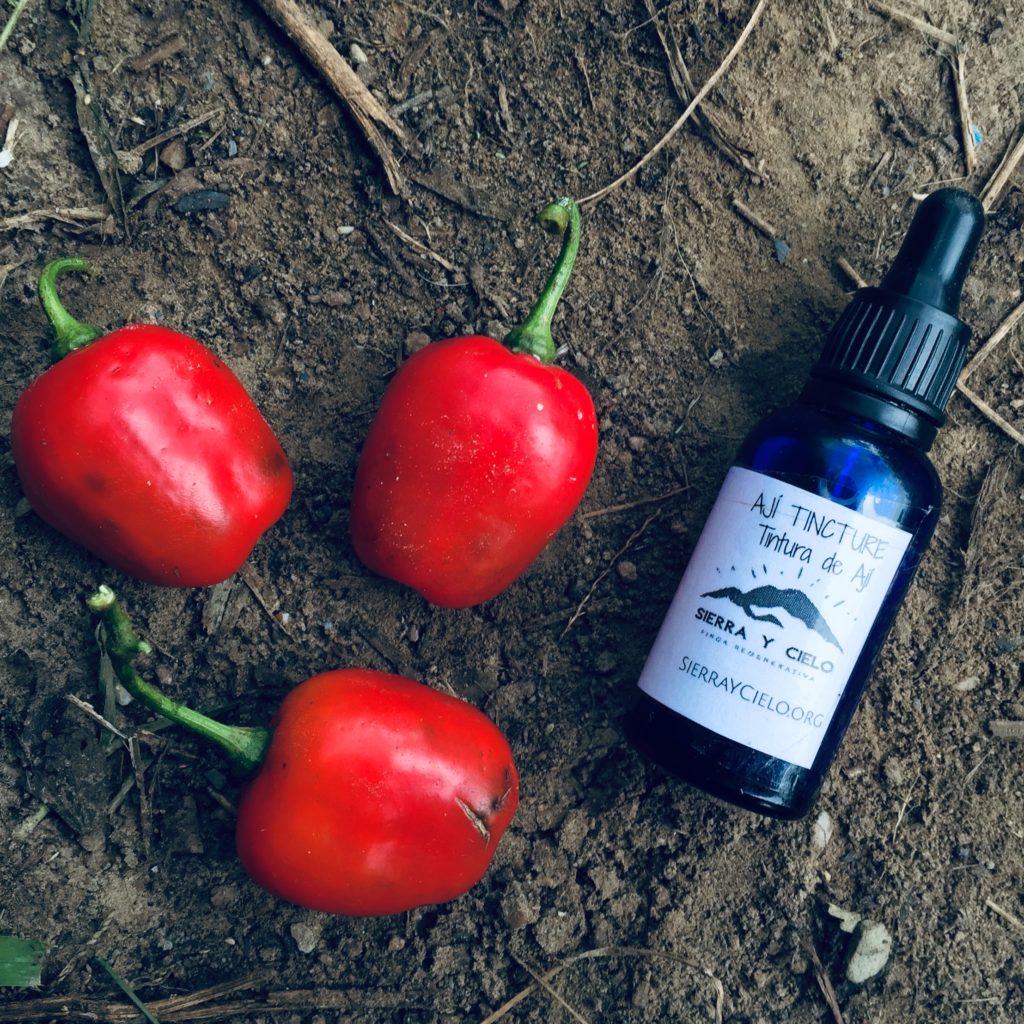 If you don't typically eat spicy peppers and want to start benefiting from their health promoting properties, homemade hot sauce is a great way to get started. Conventional hot sauces can contain lots of added sugar and other questionable ingredients, so making your own spicy sauce is ideal, if possible.
While Ecuadorian food isn't typically very spicy, homemade ají sauces are a common condiment here. There are a few different types that are popular. Ecuadorian food blogger, Laylita, shares recipes for some of the most common versions on her blog:
There are many reasons to love hot peppers, and even if you don't like spicy food, it may be worth having capsaicin on hand in your medicine cabinet so you can benefit from its array of health boosting properties.
---
References
American Heart Association. (2020) People who eat chili pepper may live longer? Scientific Sessions Report, Presentation P1036. Retrieved from https://newsroom.heart.org/news/people-who-eat-chili-pepper-may-live-longer
Clark, R. & Lee, S.L. (2016) Anticancer Properties of Capsaicin Against Human Cancer. International Institute of Anticancer Research. 36 (3), 837-843.
Cleveland Clinic. (2020) People Who Eat Chili Peppers May Live Longer, Study Says. Retrieved from https://newsroom.clevelandclinic.org/2020/12/31/people-who-eat-chili-peppers-may-live-longer-study-says/
Folkman J. (2002). Role of angiogenesis in tumor growth and metastasis. Seminars in Oncology, 29(6 Suppl 16), 15–18.
Gartelmann, K.D. & Pérez, F.O. (2011) La Botica de Dios: Plantas medicinales y su uso. Trama Ediciones. (pp. 89-90).
Gladstar, R. (2008) Herbal Recipes for. Vibrant Health. Storey Publishing. (pp. 320).
Healthwise. (2020) Capsaicin. University of Michigan Health. Retrieved from https://www.uofmhealth.org/health-library/ut1025spec
Ilie, M.A., Caruntu, C., Tampa, M., Georgescu, S.R., Matei, C., Negrei, C., Ion, R.M., Constantin, C., Neagu, M., & Boda, D. (2019). Capsaicin: Physicochemical properties, cutaneous reactions and potential applications in painful and inflammatory conditions. Spandidos Publications. 916-925.
Kloss, J. (2009). Back to Eden; a Book on Herbal remedies for Disease, and other Natural methods of Healing (Second Edition). Lifeline Books.
Lost Crops of the Incas: Little-known Plants of the Andes with Promise for Worldwide Cultivation; Report of an ad hoc panel of the Advisory Committee on Technology Innovation (1989) National Academy Press. (pp. 195–201).
Public Library of Science. (2013, November 13). Early uses of chili peppers in Mexico. Science Daily. Retrieved from www.sciencedaily.com/releases/2013/11/131113182558.htm
Tierra, M. (1998). The Way of Herbs. Pocket Books. (pp. 74-75).
Zetter, B R. (1998) Angiogenesis and Tumor Metastasis. Annual review of Medicine vol. 49, 407-24.