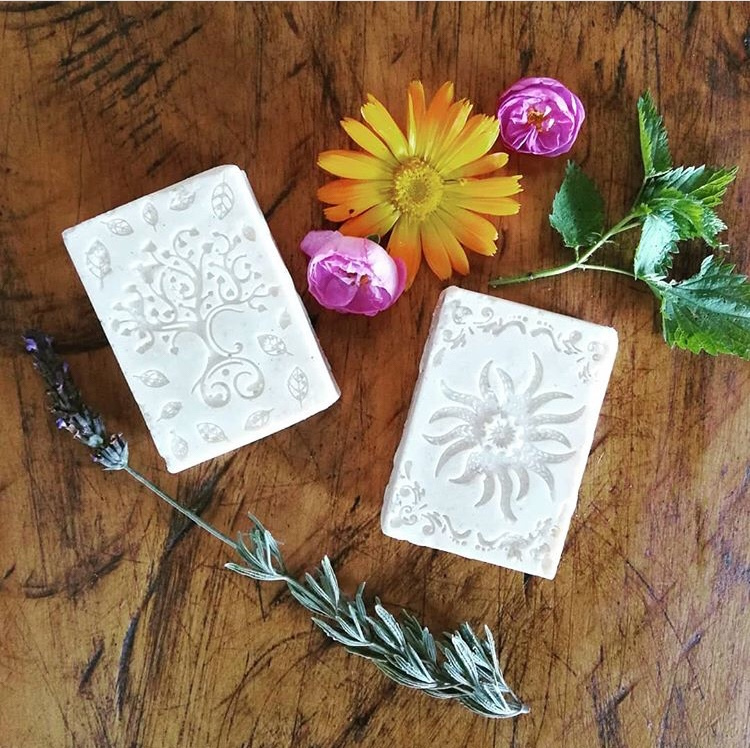 Our soaps are made with homegrown + locally sourced botanicals and milk from our goats. They are always unscented and free of artificial colorants. A blend of nourishing fats and oils makes for a gentle soap that helps to boost overall skin health.
Cacao butter is an excellent emollient that softens and soothes. Sunflower oil is rich in vitamin E, which helps to protect the skin from premature aging due to sun damage.
Coconut oil hydrates skin, reduces inflammation, and boosts collagen. Castor oil is rich in fatty acids and is beneficial to the overall health of skin and hair. It's antioxidant rich and moisturizing properties help to prevent premature aging of the skin that can lead to wrinkles.
Nourishing and deeply moisturizing animal fats, like lard & tallow, have been used by traditional cultures for thousands of years to soothe and heal skin.
Today, modern science supports this ancestral knowledge. Like our cell membranes, tallow fat is typically 50 to 55 percent saturated, making it quite compatible with our skin and beneficial for its health.
Tallow and lard contain vitamins A, D, & E, which are crucial for skin health. These essential vitamins help to reduce redness, wrinkles, age spots, and dry skin.
Vitamin A is essential for skin health as it boosts production of collagen and new skin cells. Vitamin D boosts collagen production and promotes clear complexion by reducing acne, dark spots, and fine lines. Vitamin E moisturizes skin and protects it from UV damage that can cause cancer, age spots, and wrinkles.
Tallow is also rich in Vitamin K, which is important for proper skin healing and can be important for reducing stretch marks, dark under eye circles, scars, and spider veins.
Lard also provides omega-3 fatty acids, which are crucial to the appearance and function of your skin. They are particularly important for protecting your skin from sun damage.
[product_table id="229″]